Kensway Property Group
"I have known Blair for a number of years, I enjoy his straight forward and honest approach.  Blair quickly comes up to speed when accounting advice is required on specific projects.  He understands my business and personal requirements, and is very supportive.  I would also highly recommend Blair to anybody who is looking to purchase or sell a business.  Finally, having Blair as part of the team gives you more confidence in the direction you are taking."
Snap On Tools Wellington
"Blair is fantastic. He is easy to relate to and we have a yarn about life in general. Part of the reason we decided to follow Blair was that he knows our business so well. Other accountants just don't seem to understand, or want to understand the system and programmes our business operates. Other franchisees are having to provide far too much information and data to their accountants adding additional hours to an already busy working week. In fact I have recommended Blair to a couple of other franchisees. It's easy to recommend someone who makes your life easier.
Blair takes a lot of our financial problems away from us and he has put in great systems that allow me to focus on running my business rather than coming home at night and worrying about what else I need to be doing.
About six years ago when we set up our business Blair identified a gap in our insurance cover and strongly recommended we visit a broker. Acting on this recommendation we went through the various insurance options and opted for a range of cover including income protection, life and trauma cover. Being cost conscious we debated the merits of this additional cost while starting up, but balancing the benefits of it versus the risk of not having it we went ahead with the cover.
My wife recently suffered a significant health event which meant I needed time off work to spend time with her in hospital and also to look after our family. Our insurance has allowed me to take the time I needed, without the financial burden that would have existed had we not had the insurance cover. Blair's advice on this has been invaluable to our family at this time".
Paul and Karin Mahar
Authorised franchisee of Snap On Tools Wellington, Porirua and Kapiti Coast region.

Newtown New World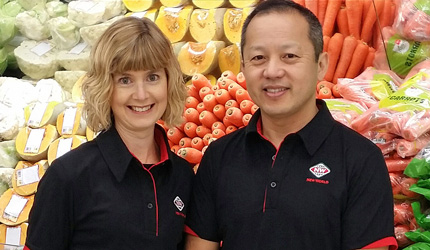 "New World owners are very careful and particular about whose services we engage. If I have a problem Ben comes up with the solution, he is very proactive and has a lot of very helpful ideas. My time is very limited and Ben's service is very prompt and thorough. This has been consistent for the 10+ years Ben has been my accountant".
Donald and Susan Chung
Owners of Newtown New World

Mike Soulsby
To be honest, I'm happy as with Blair. I've been dealing with Blair for over a decade and everyone I know who deals with him recommends him to others which is pretty hard to say these days. Finance people and accountants are too rigid and don't know how to chat but Blair is normal and friendly and we get on very well. He's also a good sounding board and I often call him for general business advice.